Cat Hotel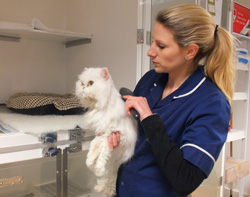 We have all new, spacious, sneeze-proof cat cabins in our separate cat hotel to allow cat boarding for up to 8 cats. All cabins are cleaned throughout the day and boarders receive close attention from our nursing staff (including cuddles!). Our cat cabins are large and bright with 2 levels for cats to jump between. In addition to blankets, all cat cabins now have their own igloo for relaxation and we also supply cats with cat toys to play with. As a veterinary practice we are well placed to provide for those boarders who need medical attention, such as those cats requiring tablets and injections as well special medical diets.
All boarders must have up to date vaccination and flea treatment before admission and all cats staying over 5 days will receive free Frontline flea treatment during their stay.
All cat boarders are routinely fed on Hills Feline Maintenance diet but we understand many cats have their own special diets or preferences and so we are happy to feed your cat your own food, if provided.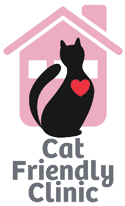 Cat Friendly Clinic
We are delighted that the new clinic and its facilities have been awarded silver standard Cat Friendly Clinic status from the International Society of Feline Medicine (ISFM). This means that the Brompton Veterinary Clinic has achieved the numerous requirements of design, equipment and the level of care and special understanding for cats and their needs.
For more information on the award and what this means please click on the cat friendly clinic logo on the right and you will be directed to the ISFM / international cat care website.
Christmas and New Year boarding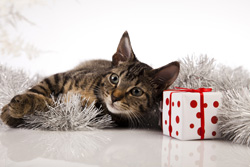 Christmas is a very busy time for cat boarding at the clinic and we are usually fully booked by the end of November. The daily price is the same year round but we do ask for a £60 non-returnable deposit at booking for each cat and please note there is a minimum boarding fee of £120 for each cat staying with us either over Christmas or over New Year.
Please telephone the clinic on 020 7225 2915 for prices.