BVC News
The Leaders Council
Kevin was invited by Lord Blunkett to be interviewed by Scott Challinor about how he managed the team at the Brompton Veterinary Clinic and how he was able to manage the difficulties of working through the Covid-19 lockdown.
The podcast interview can be heard on the following link:
https://youtu.be/V55R4Ozw65c
COVID -19
WE ARE ALL WEARING MASKS FOR YOU PLEASE WEAR A MASK FOR US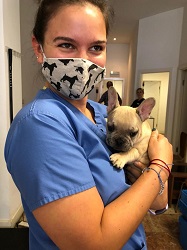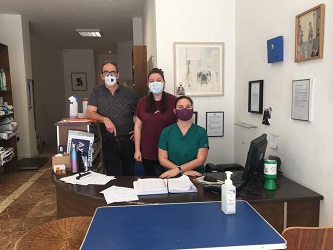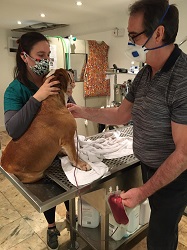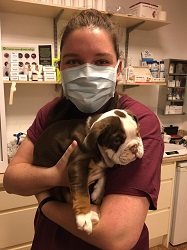 Kevin is keeping the clinic open in order to provide for the urgent care needs of all our beloved pets. Please be patient and understanding at this very difficult time, especially with telephone calls, as the lines are now incredibly busy.
A lot of our telephone calls are for quite complex travel enquiries. I realize this is very difficult but often it would be better if rather than dealing with the receptionist by phone , make an appointment with the vet and ask all your questions then.
Kevin is holding morning and afternoon clinics, strictly by appointment, from 8.30am to 1pm and from 3pm to 5.30pm.
We are making the clinic as safe as possible, both for our clients and staff, and have instituted government guidelines for social distancing. We would ask all our clients to closely observe the following:
* All appointments must be booked on the telephone and we will advise whether you should come in to the clinic
* Do not come to the clinic if you are unwell with symptoms of Covid-19 or are in self isolation. Please call the clinic and we will tell you what to do.
* Only one client should accompany their pet to the clinic in order to reduce footfall.
* On arrival, please wait outside the clinic until the receptionist calls you in, as we are limiting numbers in the waiting room and your patience is appreciated.
* If you are able to wait for your appointment in your car, please inform the staff and we will come and get you and / or your pet for the appointment.
* On entering the clinic, please use the hand sanitiser provided and sit where you are guided to and aim to keep approved distance from staff at all times.
* Payments need to be made promptly after the appointment by credit/debit card, not cash.
Are you Brexit ready ?
Questions and confusion around Brexit and what it means for pet travel continue to abound. The government advice can be found on the following link:
www.gov.uk/guidance/pet-travel-to-and-from-great-britain
Basically the old parasite treatment rules still apply and EU (ie not UK ) issued Pet Passports are still valid for travel into the EU and the UK.
However UK issued EU Pet Passports issued before 31st December 2020 are valid for ENTRY ONLY TO THE UK along with the necessary parasite treatment as before but they ARE NOT valid for travel into the EU. You will need to apply for an ANIMAL HEALTH CERTIFICATE within 10 days of every entry to the EU.
However you still need any more help please speak to one of the staff directly for current advice. Please try and come in the afternoon to chat about this as our phone lines are being jammed with Brexit questions!
Ultrasound Specialist appointments now available at the Brompton Vet Clinic.
Dr Livia Benigni an RCVS and EBVS recognised pecialist in Veterinary Diagnostic imaging is now doing an ultrasound referral clinic with us every two weeks. Please speak to one of our vets if you would like to know more about this specialist referral service for ultrasound diagnosis.
Kevin's volunteering trip for a rabies vaccine and neutering program in Thailand.
Kevin visited the Bon Jardin dog rescue and rehabilitation centre outside Bangkok to see their temple dog neutering program and also travelled north to join the Worldwide Veterinary Service team at the BLES elephant sanctuary in Sukhothai. The team there spent a week travelling to isolated villages vaccinating dogs against rabies and neutering nearly 300 dogs and cats.
If you are interested in helping the street dogs of Thailand please check out the Bon Jardin dog rescue website at : www.bonjardin.com
Tick borne disease outbreak in Essex:
An outbreak of the extremely serious disease Babesia, in Essex, is of particular concern to all dog owners. Babesia Canis is a parasite carried by ticks and is prevalent in Europe. Babesia is not believed to have been contracted in the UK before.
Symptoms of Babesia include weakness, lethargy, fever, anaemia and red urine. We are advising that all dog are treated for ticks now that spring is here. Please call the clinic for advice.
Identity Microchips is now compulsory for all dogs over 8 weeks of age in the UK. Most of our dogs and all dogs with passports will already be microchipped but if your dog has never been chipped you wil need to come in and get one implanted. It is very straightforward and only takes a few minutes.
Fox mange and Lungworm
Although the change in weather means that ticks are not such a problem as in the summer, the prevelance of urban foxes in central London means that we do need to continue some parasite control in dogs to prevent them catching fox mange, a very itchy skin parasite. Foxes tend to come into the garden at this time of year and dogs love rubbing themselves on the ground where foxes have lain, which is how mange parasite is transmitted. Preventative treatment is easy with a regular spot-on drop such as Advocate or Stronghold and is strongly recommended. Advocate also has the advantage of contolling Lungworm, a nasty parasite that lives in the lungs and is transmitted by snails in the garden.
Pet passport - Important News
Please note that the old blue UK Pet Passports require the Official Veterinarian stamp on the rabies vaccination page whilst the new UK Pet Passports require a practice stamp with the address and telephone number as well. If you are in any doubt at all please pop into the clinic and get the receptionist to check the rabies page.
Since 2012, when travelling with your pet within the EU and qualifying countries such USA, Canada, UAE and Russia, a Rabies blood test has not been required.
However, many pets have already passed the Rabies blood test and owners have assumed that they are thus eligible to travel worldwide outside the qualifying countries. This is only the case if the Rabies blood test has been taken 30 days or more after a Rabies vaccination and the UK border agency appears to be checking this requirement specifically. If you intend to travel to non-qualifying countries, please ask Kevin himself to check your passport before making any travel plans, even if you have previously travelled outside the EU.
Grooming
We are now able to offer dog bathing in our grooming area. We have a purpose designed deep bath for pets and can offer a warm shampoo with deliciously scented honey and oatmeal shampoo followed by a trim and clip nails if required and blow-dry.
Holidaying in Spain and Southern France?
There is a new vaccine for the mosquito-borne disease Leishmaniasis which is present in the Southern Mediterranean, especially Spain but also the South of France, Italy and Greece. This is a particularly unpleasant canine disease which is difficult to treat and often fatal. Previously we have been advising the use of Scalibor collars for dogs but in addition we now advise the vaccine as well for all dogs travelling to affected areas. It is not present in the UK and thus is not part of our routine annual preventative vaccination programme. Please contact the clinic to discuss further if required.
Cat Friendly Clinic Award
We are delighted that the clinic and its facilities have been awarded silver standard Cat Friendly Clinic status from the International Society of Feline Medicine (ISFM). This means that the Brompton Veterinary Clinic has achieved the numerous requirements of design, equipment and the level of care and special understanding for cats and their needs.
For more information on the award and what this means please click on the cat friendly clinic logo on the right and you will be directed to the ISFM / international cat care website.